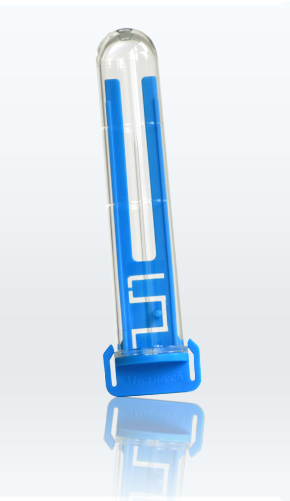 ICSI micropipettes
ICSI (intracytoplasmic Sperm Injection) micropipettes are use to aspirate and inject the sperm cell directly into the oocyte.
Microtech standard ICSI micropipettes are prepared from borosilicate glass tubing (O.D. 1 mm, I.D. 0,78 mm), total length 5,5 mm, with length of arm 0,5 mm, beveled 35° and with I.D. of the tip 4,5-5 μm, with spike (s) and bending angle 30°.
ICSI pipettes may be ordered also:
without spike
with beveled 30°or 40°
straight or with bending angle 20°, 25°, 35°, 40°
ICSI-SPERMATID micropipettes are use for aspiration and injecting immature sperm into the oocyte. ICSI-Spermatid micropipettes has I.D. 7-8 μm, O.D. 9-10 μm of the tip.
Individually packed
For single use only
20 pcs in box
Blue
Article number
code
I.D.
angle
spike (s)


002-5-20-s
002
5
20
yes
002-5-20
002
5
20
no
002-5-30-s
002
5
30
yes
002-5-30
002
5
30
no
002-5-35-s
002
5
35
yes
002-5-35
002
5
35
no
002-5-s
002
5
straight
yes
002-5
002
5
straight
no
SPERMATID
002-7-20-s
002
7
20
yes
002-7-20
002
7
20
no
002-7-30-s
002
7
30
yes
002-7-30
002
7
30
no
002-7-35-s
002
7
35
yes
002-7-35
002
7
35
no
002-7-s
002
7
straight
yes
002-7
002
7
straight
no