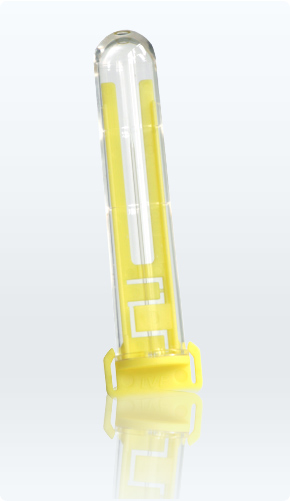 BIOPSY micropipettes
Biopsy pipettes are used to perform biopsies on the embryo (blastocyst) or the oocyte (polar body) for Preimplantation Genetic Diagnosis - PGD.
Standard Microtech Biopsy micropipettes are prepared from borosilicate glass tubing (O.D. 1 mm, I.D. 0,78 mm), total length 5,5 mm, the length of the arm 1mm, blunt opening (A) or beveled 40° (B) and with I.D. 10, 15, 20, 30 a 35 µm.
Biopsy micropipettes may be ordered strait or with bending angle 20°, 30°, 35° and 45°.
Biopsy micropipettes with I.D. 15 micron, beveled 40° with a spike are use for Polar body biopsy.
Individually packed
For single use only
20 pcs in box
Yellow
Article No.
code
I.D.
angle
Blunt opening
004-10-30-A
004
10
30
A
004-10-35-A
004
10
35
A
004-10-A
004
10
straight
A
004-15-30-A
004
15
30
A
004-15-35-A
004
15
35
A
004-15-A
004
15
straight
A
004-30-30-A
004
30
30
A
004-30-35-A
004
30
35
A
004-30-A
004
30
straight
A
004-35-30-A
004
35
30
A
004-35-35-A
004
35
35
A
004-35-A
004
35
straight
A
Yellow
Article No.
code
I.D.
angle
Beveled
004-10-30-B
004
10
30
B
004-10-35-B
004
10
35
B
004-10-B
004
10
straight
B
004-15-30-B
004
15
30
B
004-15-35-B
004
15
35
B
004-15-B
004
15
straight
B
004-30-30-B
004
30
30
B
004-30-35-B
004
30
35
B
004-30-B
004
30
straight
B
004-35-30-B
004
35
30
B
004-35-35-B
004
35
35
B
004-35-B
004
35
straight
B